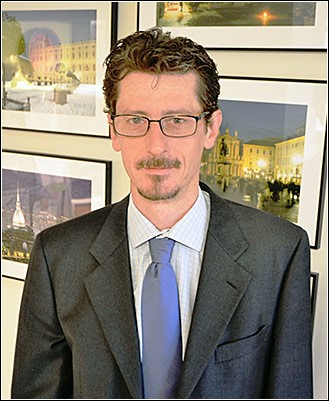 Alessandro Alasia, Chief, Data Exploration and Integration Lab. Photo: A. Paulos.
Alessandro Alasia has always wanted to make a positive contribution to the world. Leaving behind beautiful Italy in 1995, armed with a Master's degree in agricultural economics, a suitcase and a spirit of adventure, he set out for one of the coldest capitals in the world, ready to brave the Great White North for the opportunity to pursue his doctoral degree and research aspirations in Canada.

After joining Statistics Canada in 2001 as a researcher, Alassandro's quest to make the world a better place began to take shape. In conjunction with the European Union, Organisation for Economic Co-operation and Development, and the World Bank, he became a global citizen, conducting research in rural development and agricultural economic projects in Thailand, Mozambique, Argentina, Peru, Colombia, Canada and Italy.

While serving as a manager at the Centre for Special Business Projects at Statistics Canada, Alessandro was given plenty of time to think outside the box—and soon developed a revolutionary idea.

In 2015, he presented his idea to use innovative crowdsourcing techniques for data-collection purposes to Statistics Canada's Big Ideas Conference 2. His idea would serve to modernize our data-collection methods and take advantage of data that is already readily available. In 2016, Alessandro, now the Chief of the Data Exploration and Integration Lab at the Centre for Special Business Projects, received funding to further his Analytical Projects Initiative project to test crowdsourcing data-collection.

"The world of statistics is changing and we need to adapt to the new and emerging data ecosystem," says Alessandro. "In this new data ecosystem, national statistical offices are increasingly likely to become both producers and consumers of data generated by other organizations, entities and even individuals. In fact, the big bet of this big idea is that crowds can become a source of valuable information. In other words, Canadians may want to volunteer specific information to collectively build a data resource open to all Canadians."

His collaborative team, which was formed with employees from five different divisions, received funding for two years. "Everybody is thrilled about the project, its potential and its challenges." He said. However, he agrees that getting the idea accepted was the easy part. Now comes the difficult task of trying to make crowdsource collection work.

"We have to define all the details now," says Alessandro. "We know that crowdsourcing works, exists, is out there, but we have to make it work for official statistics. The fine-tuning that is needed is quite substantial, to put it mildly."

A pilot project to use crowdsourcing to map non-residential buildings in Canada has been launched. Currently, there are no accurate statistics on buildings and their attributes at the national level for comparison of specific locations. Not only will this information provide us with new analytical opportunities, but it will teach us about the possibilities and limitations of crowdsourcing.

Why stop there? After having received such positive results from his pilot project, Alessandro is now ready to map the whole of Canada with his new project, the community-led Building Canada 2020 initiative. First stop, Canada. Next stop, the world!