Raison d'être
Statistics Canada was established to ensure that Canadians have access to a trusted source of statistics on Canada to meet their highest priority needs.
The Agency's mandate derives primarily from the Statistics Act. The Act requires that Statistics Canada collect, compile, analyze and publish statistical information on the economic, social and general conditions of the country and its people. It also requires that Statistics Canada conduct a census of population and a census of agriculture every fifth year, and that the Agency protect the confidentiality of the information with which it is entrusted.
Responsibilities
Access to trusted statistical information underpins democratic societies, as it supports evidence-based decision-making in the public and private sectors, and informs debate on public policy issues.
Through the Constitution Act of 1867, "census and statistics" became a federal jurisdiction. Today, Parliament exercises its responsibility for the Census and statistics, primarily through the Statistics Act. The Act created Statistics Canada as Canada's national statistical office, and established the Agency's mandate, powers and obligations. The Agency can access administrative records to complement its work. In tandem with these powers, Statistics Canada is also charged with ensuring the confidentiality of information in its hands, and with limiting the use of that information to statistical purposes.
Finally, to promote the efficiency of the national statistical system, Statistics Canada has a mandate to collaborate with other government departments, along with provincial and territorial governments, to develop a well-integrated, coherent, national system of statistics that minimizes duplication and reporting burden on households and businesses.
Statistics Canada also has a mandate, under the Corporations Returns Act, to collect and publish information on inter-corporate ownership in Canada, notably foreign ownership of Canadian enterprises.
Numerous federal and provincial laws and regulations specifically require information from Statistics Canada before they can be implemented. Some key examples are the Canada Pension Plan Act and the Income Tax Act (the Consumer Price Index), the Employment Insurance Act (small-area employment and unemployment estimates), the Federal–Provincial Fiscal Arrangements Act (numerous economic and demographic measures), the regulations to the Official Languages Act (census data on official languages) and the Electoral Boundaries Readjustment Act (census data on local-area population counts).
Statistics Canada's Corporate Management Framework illustrates how the Agency fulfills its responsibilities. For details on this framework, and on the enablers that allow the strategic outcomes to be achieved, please see Reports.
Other
Statistics Canada's organizational structureFootnote 1: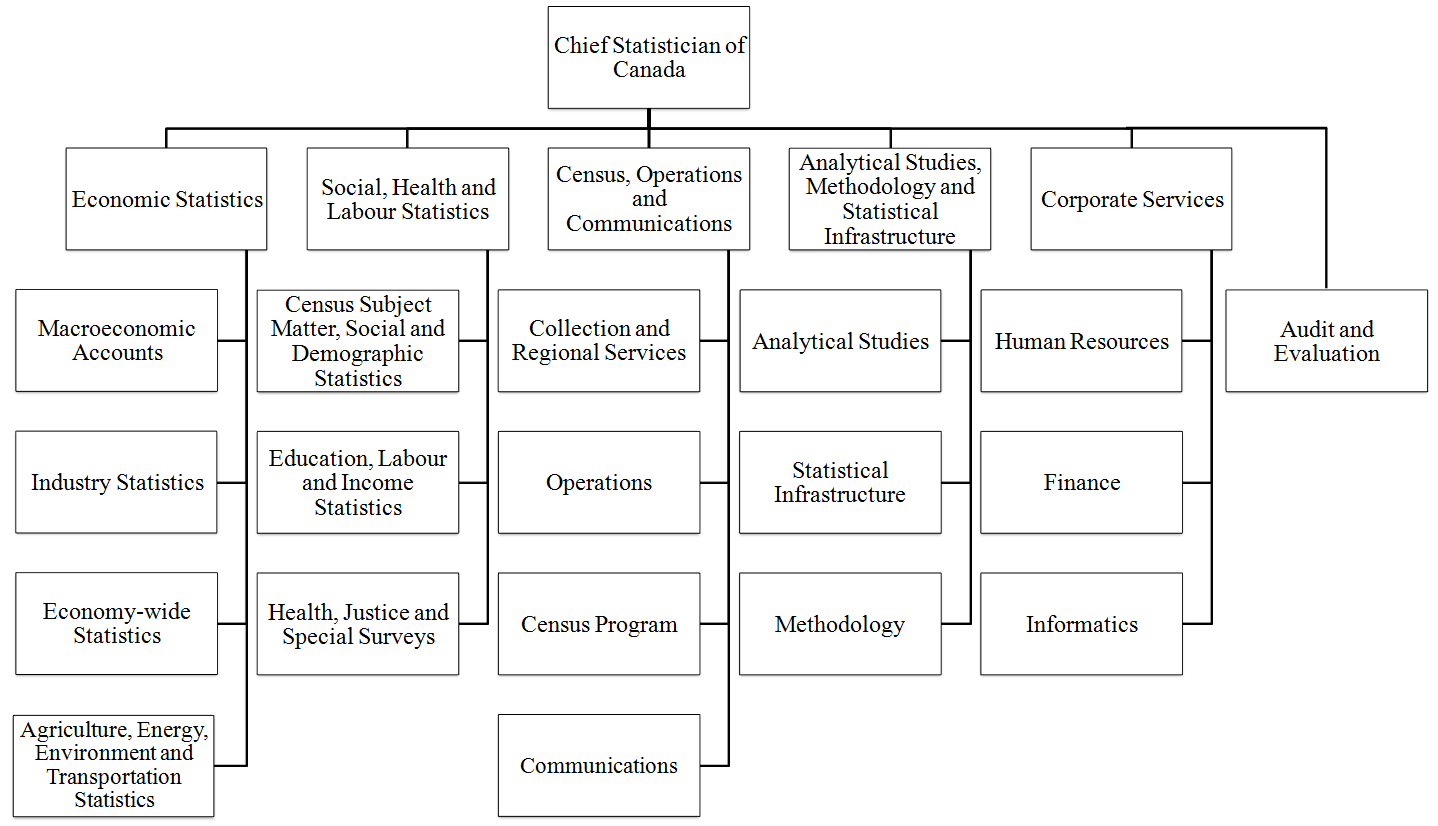 Description for Figure - Statistics Canada's organizational structure

Chief Statistician of Canada

Economic Statistics

Macroeconomic Accounts
Industry Statistics
Economy-wide Statistics
Agriculture, Energy, Environment and Transportation Statistics

Social, Health and Labour Statistics

Census Subject Matter, Social and Demographic Statistics
Education, Labour and Income Statistics
Health, Justice and Special Surveys

Census, Operations and Communications

Collection and Regional Services
Operations
Census Program
Communications

Analytical Studies and Statistical Infrastructure

Analytical Studies
Statistical Infrastructure
Methodology

Corporate Services

Human Resources
Finance
Informatics
Notes
Footnote 1

As of July 2015.