Learning about Canada's diverse families through Nora Spinks from The Vanier Institute of the Family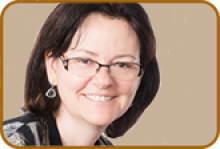 For more than 25 years, Nora Spinks has applied a "family lens" to study a variety of topics related to diversity and the reality of family life in Canada, from education, housing and healthcare to cultural and structural dynamics in the workplace. In her current role as Chief Executive Officer at The Vanier Institute of the Family in Ottawa, she leads a team that seeks to understand the diversity of families and complexity of family life. Founded in 1965, the Vanier Institute monitors and reports on the complex and evolving dynamics of family life, using data produced by Statistics Canada to inform its many projects and programs.
"Statistics Canada data are vital to what we do and to all of the people and organizations that want, and are involved with, evidence-based decision making," said Ms. Spinks. "At The Vanier Institute, we look deeper to find the stories these numbers are telling us, and to ultimately make a difference in the lives of Canadians from coast to coast to coast."
Family ties
Founded by then-Governor General Georges P. Vanier and Madame Pauline Vanier during the widespread social, economic and cultural change of the 1960s, the Vanier Institute promotes understanding of diversity and family life by sharing its work publicly, including at a recent event organized by StatCan on The story of Canada's ethnocultural diversity in numbers.
Held on April 25, 2017, this event—hosted by Chief Statistician of Canada, Anil Arora—was the first of a four-part speaker series marking Canada's 150th anniversary of Confederation. It brought together close to 150 academics, historians, students, policy makers, community organizations and practitioners for a discussion about ethnocultural diversity. Ms. Spinks was one of five experts on the panel discussion, offering insight into some of the Vanier's research and study practices.
"A couple of years ago, we went on a national listening tour. We asked people to complete the phrase 'family is' with one word because we wanted to find out what was shared as well as what was different across ethnocultural groups. We were surprised to find the same three words—love, care and support—across all populations in Canada. At the Vanier Institute, we study our similarities as much as our differences."
The Ottawa-based Vanier Institute publicizes its work in both official languages, and embraces new ways to partner with researchers, educators, students, journalists and policy-makers to reach as many Canadians as possible and to have a positive and sustainable impact.
As Ms. Spinks explains: "In order to understand families, and the complexity of family life and how families are affected by social, economic and environmental factors, we do a couple of things. We analyze data through a family lens; we identify gaps and overlaps in information; we translate and transfer knowledge; and, we apply that learning in policies, practices and programs across the country."
On the ground
One of the organization's leading partnerships is with Statistics Canada analysts, who provide consultation services in analyzing both statistics and reports. "We begin every day with what we call a 'huddle,' or a quick stand-up meeting. Here, we will talk about The Daily or about a report to determine whether or not it has an impact on any of our projects. Or, we might have a question for our colleagues at StatCan, like 'What do you think? Are we reading this right?' And the answers we receive are truly remarkable, both in the statistical analysis they provide and in the way it's communicated. We couldn't do what we do if it weren't for the talented and committed people at StatCan doing what they do."
Despite the Vanier Institute's unparalleled access to information, Ms. Spinks emphasizes that data are not their only resource for research and analysis. She also advocates for the importance of lived experience, working with communities on the ground as well as researching and studying numbers—two complementary approaches she says rarely come together.
"Part of our work involves being on the ground, but it also requires the need to understand the numbers behind the experience. In the past, a lot of the policies, practices and programs that were underway happened because we had a sense that they might work, so we would test them and then measure them. Now that we have access to more data, we can actually do as much evidence-based programming as experience-based programming. It's not that one supersedes the other; it's that one sometimes follows the other."
The Vanier Institute is currently working on at least seven long-term projects, including ones on military and Veteran families and employment-related geographic mobility. Two of their most recent publications, A Snapshot of Women, Work and Family in Canada and A Snapshot of Men, Work and Family Relationships in Canada, explore work and family experiences using data from a variety of StatCan sources, such as the General Social Survey, and articles such as Women and Paid Work and Changes in Parents' Participation in Domestic Tasks and Care for Children from 1986 to 2015. According to Ms. Spinks, the study of work and family life is particularly important today, as the number of couples that work full-time has increased considerably over the past four decades. Studying these social changes is the first step in the Institute's efforts to create and foster healthy and productive work environments.
"The next step is to look at the way in which language is used. For example, in our research, we found the concept of 'work-life balance' to be unsettling for many due to images of the scales of justice, a tight rope or a teeter totter. Instead, we found 'work-life quality' to be more effective in encouraging healthy workplaces, so the whole concept of language is also a big part of what we do."
The road ahead
Researching healthy workplaces is part of the Vanier Institute's exploration of new frontiers in enhancing the lives of Canadians. As a panelist in StatCan's Speaker Series, Ms. Spinks said her aim was to help people see topics from a different perspective, or, to incite what she calls: "Ah-has, wows and hmms."
"After the panel discussion, there were people who were intrigued, and there were people who spoke with passion and conviction, both for those who supported and endorsed what they heard, but also for those who challenged and tested ideas. The more conversations we have, the more opportunities we'll have for development. For me, both at the Speaker Series and in my work at the Vanier Institute, if everybody walks away from a discussion with at least one 'ah-ha, wow or hmm,' I think we've done our job."
To learn more about Statistics Canada's program of activities to mark Canada 150, visit Telling Canada's story in numbers.
Please note that comments are moderated. It may take some time for your comments to appear online. For more information, consult our rules of engagement.
536 people recommended this

568 people recommended this

565 people recommended this