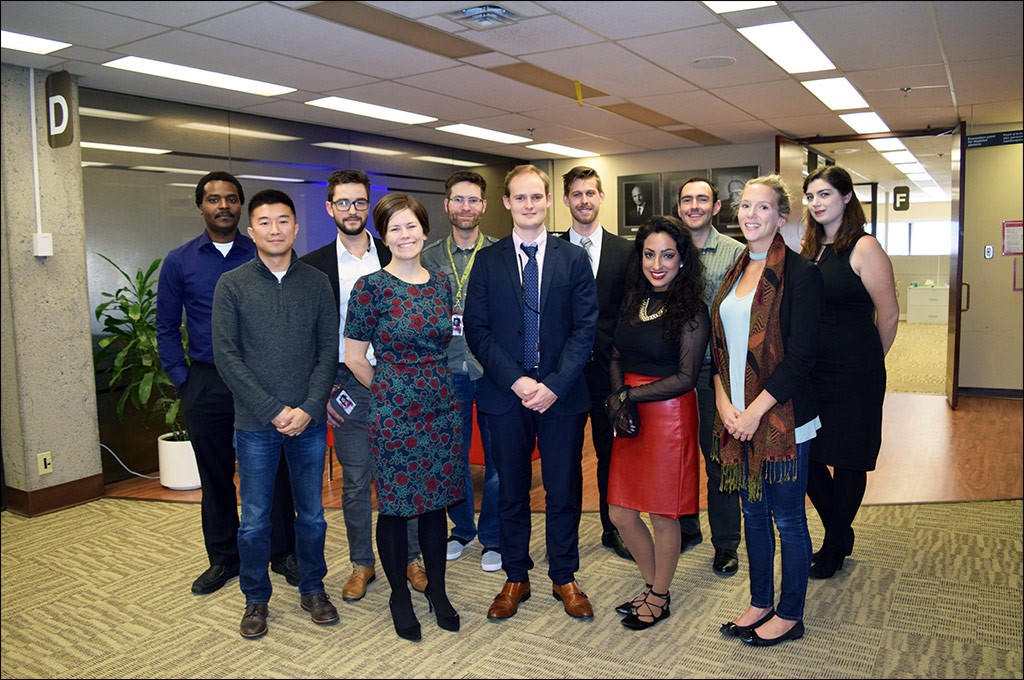 (Photo: The hackathon participants who presented their projects at the Executive Management Board meeting.)
In today's data-driven world, risk-taking, collaboration and exploration are essential approaches to innovation. Statistics Canada recognizes this and has taken steps to apply them in some friendly, but grueling, competitions with its counterparts from around the globe. So, when the call came to join other international teams in the first International Virtual Hackathon, the agency's Innovation Team was only too happy to answer. The event, hosted by the United Economic Commission for Europe (UNECE), took place from September 5 to 7, 2017.
The hackathon's theme was to tell stories about youth using the United Nations' (UN) Sustainable Development Goals (SDG) data. "Youth today want to make a difference, so it was an interesting leap to figure out how to engage young people and align their projects with the sustainable goals of the UN," said Sylvie Michaud, Assistant Chief Statistician of Analytical Studies, Methodology and Statistical Infrastructure, and the agency's Innovation Champion.
To truly make it a collaborative project, the UNECE organizers encouraged participants to form multidisciplinary teams comprising experts from academia, the private sector, and other National Statistics Offices.
Each of Statistics Canada's three teams encountered a number of issues with their projects, contributing to the challenging and exhausting nature of hackathon events. All participants were impressed with what they were able to accomplish in just three days.
Senior management have no shortage of praise for the hard work of their teams, who created meaningful tools and applications to engage users. The teams already have ideas on how they can apply these SDG tools to their own work, and as a way to engage Canadians.
Once the competition was complete, a judging panel comprising assistant chief statisticians from around the globe scored each team on how well they met the criteria. The general public were then invited to go online and vote for their favourites. The final evaluation took into account both the judge's score and the popular vote.
The Innovation Working Group was thrilled to have had the three groups participate in this unique challenge, and has since shared the hackathon projects with other Statistics Canada employees, including at the agency's first annual Innovation Fair in November 2017.