Statistics Canada's main campus is in the National Capital Region (Ottawa-Gatineau)
The National Capital Region is one of the most desirable places to live in the world. Once you discover its dynamic culture, distinctive neighbourhoods, family-friendly atmosphere, bustling arts and entertainment scene, and countless recreational options, we think you'll agree that this is truly a special place.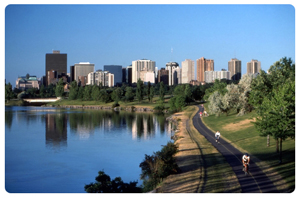 Neighbourhoods
One of the most important decisions you will have to make is choosing where to live. There are dozens of desirable neighbourhoods in the National Capital Region, for example:
The Downtown Ottawa area is a mix of residential and commercial neighbourhoods. Within this area you will find the Glebe, one of the oldest and most elegant areas of Ottawa, Centretown, housing many young professionals in its numerous high-rises, and Preston Street, which is the heart of the Italian community.
Riverside is a newer neighbourhood, located in the south end of the city. Although it is only fifteen minutes from downtown, there are hundreds of acres of parks and numerous nature trails in Riverside.
Westboro is a thriving community located along the Ottawa River. With its gentrified older homes and an increasingly lively street scene, Westboro is establishing itself as a popular destination for food, shopping and nightlife.
Kanata is a popular suburban area in the west end of Ottawa. It is a planned community, and it is notable for being an important high-tech centre. Kanata is located about 22 kilometres west of downtown Ottawa along Highway 417.
Orleans is one of Ottawa's fastest growing suburban areas. Not only does it boast a large shopping centre, but there is also plenty of recreational space. The community is about 16 kilometres east of Ottawa's downtown core, just a ten minute drive away.
Gatineau is a city in West Quebec, situated immediately across the Ottawa River, opposite the City of Ottawa. Prior to 2002, there were five cities on the Quebec side of the Ottawa River: Hull, Gatineau, Aylmer, Buckingham and Masson-Angers. These amalgamated into one city, and the remaining four communities have now become suburbs or neighbourhoods. As part of the National Capital Region, Ottawa and Gatineau make up a single Metropolitan Area.
There are major tourist attractions in Gatineau, such as the Canadian Museum of Civilization and the Casino du Lac Leamy.
Each Labour Day weekend, Gatineau hosts a hot air balloon festival, filling the skies over the city with hundreds of colourful balloons.
One of Gatineau's larger parks, Jacques Cartier Park, is used by the National Capital Commission each February during the popular outdoor festival, Winterlude.
Without a doubt, the National Capital Region's jewel is Gatineau Park. Only 15 minutes from Parliament Hill, the Park is endowed with hundreds of hiking trails through forests containing more than fifty species of trees, abundant wildlife and several crystal-clear lakes. During the summer, visitors can participate in outdoor activities such as hiking, cycling, swimming and camping, and in the winter months, they can ski or snowshoe on the more than 200 kilometres of groomed paths.
Of course, these are only a few of the lovely neighbourhoods found in the National Capital Region. There are many more, each with its own personality.