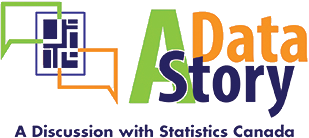 In the past, StatCan has organized half-day events held in different Canadian cities, discussing the uses of statistics in various fields.
This year, A Data Story will be held virtually. This 2-hour virtual event is a wonderful opportunity for Statistics Canada to connect and collaborate with you, our data users and stakeholders, in order to better understand your evolving data needs.
In honour of Black History Month, the event will highlight StatCan's data on the Black Communities and will be open to all Government of Canada employees as well as the general public.
Date: Wednesday, February 24th 2021
Time: 1:30-3:30 PM EST
The event will feature remarks by the Chief Statistician, Anil Arora, keynote address from Assistant Chief Statisticians Lynn Barr-Telford and Greg Peterson, followed by a panel discussion with panelists representing Black Community organizations in Canada.
Moderator
Peter Flegel, Executive Director, Federal Anti-Racism Secretariat Multiculturalism and Anti-Racism Branch
Panelists
Richard Sharpe, Director, Equity, Anti-racism, Diversity and Inclusion, Department of Justice Canada
Dr. Malinda Smith, Professor, Vice Provost (Equity, Diversity, & Inclusion) and 2018 Pierre Elliott Trudeau Foundation Fellow
Dahabo Ahmed-Omer, Executive Director - BlackNorth Initiative
Dr. Lance McCready, Associate Professor, Leadership, Higher & Adult Education and Director, Transitional Year Program
Myrlande Pierre, Vice-president, Responsible for the Presidency Charter mandate
Please note that you will receive a confirmation and reminder email with the Zoom link a few days prior to the event.
Registration:
Registration is closed.
The event will be streamed on our Facebook Live and will also be recorded. Thank you!