Overview
This exploratory initiative aims at enhancing the use and harmonization of open building data from government sources for the purpose of contributing to the creation of a complete, comprehensive and open database of buildings in Canada. The outcome of this exploratory work is a first version of the Open Database of Buildings (ODB), a centralized and harmonized repository of building data made available under the Open Government License - Canada.
This initiative originates from insights taken from the Statistics Canada pilot project on data crowdsourcing, which used OpenStreetMap as a platform for integrating data on building footprints. In addition to the possible benefits of crowdsourcing, that project highlighted the potential of integrating open data from municipal, regional, and provincial governments to meet the needs of official statistics.
In its current version (version 1.0), the ODB contains approximately 4.3 million building footprints. To obtain even greater coverage, users can complement the ODB with building information from OpenStreetMap, which is available under the OpenStreetMap's OdBL License.
What is open data?
According to the Canada Open Government website, open data is defined as structured data that is machine-readable, freely shared, used and built on without restrictions. For more information, and to see other open data released by the Canadian federal government, see the Canada Open data portal.
Importance of open building data
Smart cities and governments are increasingly making use of data when looking to implement problem-solving measures in order to provide efficient and effective services to constituents. Open data especially invites innovation, not only through governmental channels, but also through grassroots organizations, individuals, and businesses.
The benefit of open building data, and open data in general, is that any user can access and make use of it freely. Individuals, formal and informal organizations, or enterprises can use the data and other information to research and innovate on any number of topics.
Data available for download
The experimental ODB (version 1.0) integrates data from 61 municipal, regional and provincial government sources and is available for download on the Open Database of Buildings page.
The map below displays the level of building footprint coverage across Canada that can be obtained by combining the current ODB along with data available from OpenStreetMap. The ratio of population to buildings is used to generate an understanding of building coverage.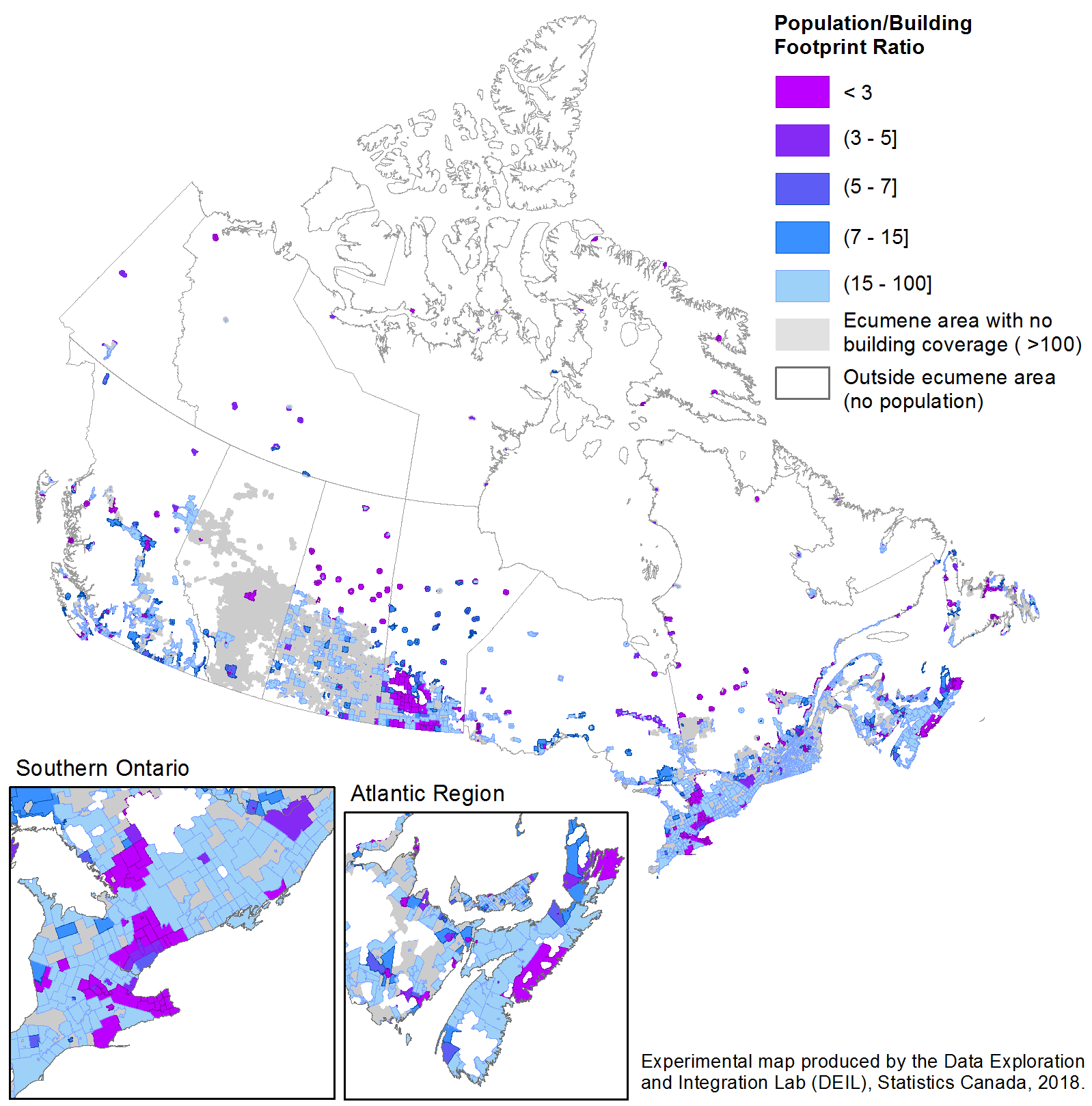 Technical Note: How is coverage calculated?
The ratio of population to buildings is used to generate an understanding of building coverage, as a population to building ratio between three and seven is likely to indicate higher coverage of a selected area. Urban areas may have a higher population to building ratio due to the type of residential buildings located in those areas. The population ecumene is defined as land where people have made their permanent home with population density > 0.1/km².
OpenStreetMap data were accessed in January 2018. Population counts are from the 2016 Census of Population. To create this map, OpenStreetMap data were merged with the ODB. Where there was overlap, OSM buildings within a five meter buffer of ODB footprints were removed.
Next steps for the initiative
The coverage of the ODB is expected to increase as more government sources of building information become available under an open data license and are integrated into the database.
For more information on this experimental database and access to the download link, see Open Database of Buildings.
To learn more about the Statistics Canada crowdsourcing pilot project, and the OpenStreetMap community, see Crowdsourcing with OpenStreetMap.