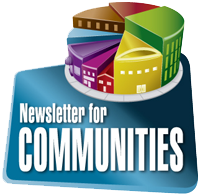 Latest newsletter
Chronological index of newsletters
Subscribe to our newsletter offering information to those working for municipal and community organizations about Statistics Canada's data and services.
Learn about:
the latest Statistics Canada releases important to municipalities and community organizations
upcoming events and activities that will help you get the most from Statistics Canada data
Subscribing is easy and free!
Go to My StatCan
You will need to Login or Register
Once inside the My StatCan portal, click Email notifications in the top right menu
Under the Publications tab, scroll down and click Reference, then add the Newsletter for Communities.
You've subscribed! An automatic alert will be emailed to you when new issues of the newsletter are available.
Tutorial for communities: Finding Health Data for your Region
July 2014
---
Tutorial for communities: Finding Local Census Data
April 2013