Statistics Canada's Corporate Management Framework, shown in Figure 1, illustrates how the agency delivers its strategic outcome. This is followed by a description of both the framework and the enablers that allow the strategic outcome to be achieved.
Figure 1 — Performance Management Framework Diagram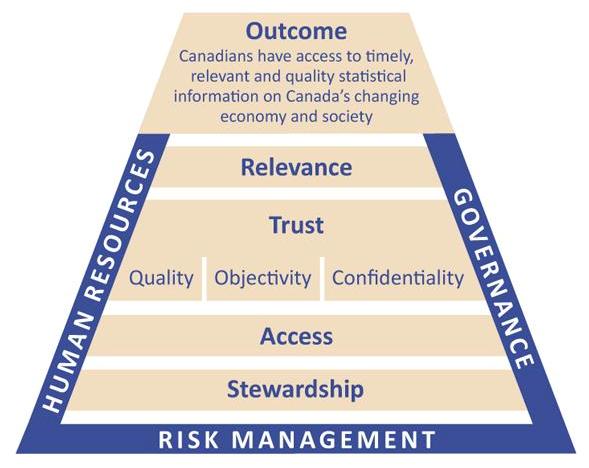 Description: Figure 1 — Performance Management Framework Diagram
Relevance is defined as producing information that meets Canada's evolving and highest priority needs. Relevance depends on user needs. To understand these needs, both present and future, and to ensure that its products and services meet them, Statistics Canada monitors data usage, and consults with users and stakeholders. Meeting those needs means taking into account how quickly the information is required. A statistical agency's programs must evolve continuously to stay relevant.
Trust has three dimensions: quality, objectivity and confidentiality. Users must be able to trust that the agency's statistics are factual and reliable representations of the social and economic worlds they are meant to describe; that they are objective; and that respondents' information is kept confidential. Quality can also be conceived of in terms of accuracy, interpretability and consistency. These dimensions are described in Archived: Statistics Canada's Quality Assurance Framework (PDF, 178 kb). To maintain and improve data quality, several measures work jointly at various levels throughout Statistics Canada, including a strong program of research and innovation in statistical methods, regular updates of standard classifications and regular internal quality reviews to identify and eliminate weaknesses—which are also an opportunity to share and promote best practices.
Access refers to awareness and use of Statistics Canada's rich inventory of information holdings. Access has two channels: publicly available data and microdata for statistical and research use. Access to microdata files is managed to ensure that the confidentiality of individual households and businesses is maintained. The agency's principal access conduit for publicly available statistics is its website. The key conduit for detailed microdata is the national network of research data centres, designed for statistical research in a secure, controlled setting. Both these mechanisms aim to meet the needs of Statistics Canada's diverse user community.
Stewardship, in the form of strategic leadership and proactive management of resources and assets, is a Statistics Canada tradition. Ensuring probity and value for money in all aspects of our work is a key component of our Corporate Management Framework. Statistics Canada strives to be a highly efficient organization: information is produced at the lowest possible cost. It has in place a unique governance and management structure, as well as a dynamic system to innovate, manage risks, and anticipate and address emerging issues and opportunities.
The enablers that help Statistics Canada achieve its strategic outcome are described below.
Human resources are by far Statistics Canada's most important asset. Therefore, effective human resource management is a key factor in achieving the agency's strategic outcome. Given the specialized skill requirements of a statistical agency, effort is focused on recruitment, training, career advancement and maintaining a positive workplace.
Governance — Statistics Canada has a mature and effective governance and management structure integrating strategic priority-setting and decision-making and ensuring accountability.
An established system of corporate committees engages managers in decision-making and recommends strategic options for program development and delivery. Committee membership includes senior managers from across Statistics Canada. The Policy Committee is the executive committee, responsible for strategic direction and overarching corporate management and decisions. All significant corporate issues are reviewed at this highest level. The Chief Statistician, on the advice of the Policy Committee, renders final decisions.
Integrated Strategic Planning — Statistics Canada's Integrated Strategic Planning Process (ISPP) is an annual six-step process that starts by establishing a strategic planning direction and ends with allocating resources for the new fiscal year. It also integrates the Departmental Project Management Office tools for project management and performance monitoring. The ISPP reflects the agency's corporate business architecture and integrates sound management practices such as risk management, investment planning, project management and evaluation into the planning process. The ISPP's six main steps include three key decision-making points in April, June and November of each year.
Investment proposals being submitted for approval must relate to the agency's priorities, considered in this order: corporate business architecture initiatives, continuity and quality maintenance of ongoing programs, and new initiatives that address strategic priorities or corporate risks. Continuity and quality of ongoing programs is fundamental to the organization: thus, at the heart of the ISPP decision-making process are 10-year continuity and quality maintenance investment plans maintained at the divisional or branch level.
The decision-making infrastructure, which includes an independent Departmental Audit Committee, encourages innovation and strategies to improve efficiency.
This structure also ensures good governance of material resources—in particular the information and communication equipment and technology that is essential for a modern statistical agency.
Risk management — In keeping with government-wide expectations of good governance and modern comptrollership, Statistics Canada places great emphasis on managing risk in all planning and program-delivery activities.