Census agricultural regions (CARs) and Census consolidated subdivisions (CCSs) are used by the Census of Agriculture for disseminating agricultural statistics. A CAR is composed of groups of adjacent census divisions (CDs). A CCS is a group of adjacent census subdivisions (CSDs) within the same CD.
For 2021, two changes to the composition of CARs were made to allow for the creation of this variant:
CARs are now defined for the territories
In Saskatchewan, CARs now respect CD boundaries.
There were 72 CARs in 2021. CARs are listed with their component CDs.
For 2021, many smaller 2016 CCSs have been amalgamated in order to create contiguous areas and reduce data suppression. CCSs are listed with their component CSDs.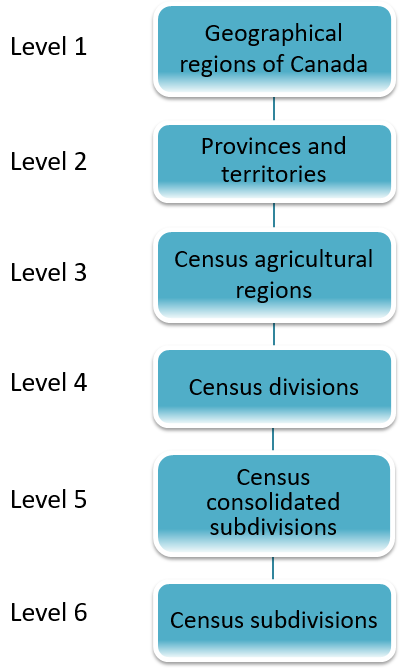 Description of Figure 5

Level 1 - Geographical regions of Canada
Level 2 - Provinces and territories
Level 3 - Census agricultural regions
Level 4 - Census divisions
Level 5 - Census consolidated subdivisions
Level 6 - Census subdivisions