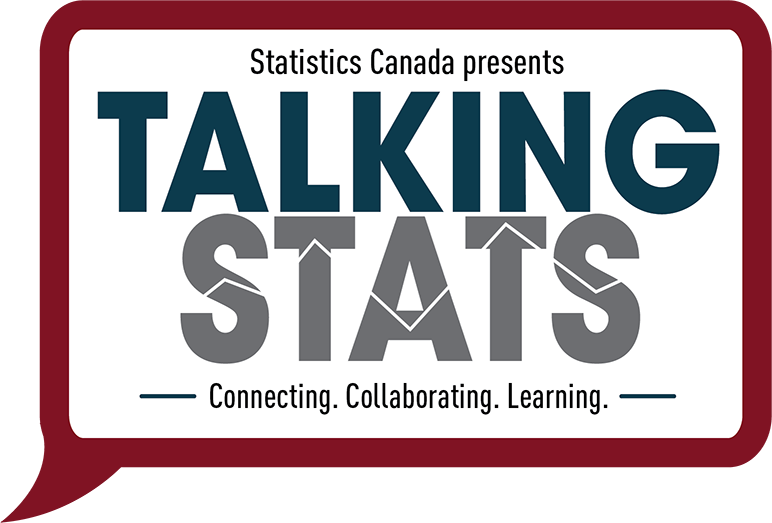 This "Talking stats" presentation painted a picture of Yukon, its strengths, challenges and how it is evolving along a number of demographic, social, and economic dimensions. The presentation also highlighted a number of facts about Yukon's Indigenous peoples. While it alsoshowcased many results from the Census, participants had a chance to get acquainted with other, lesser-known sources of data that can also be used to get a better picture of the social and economic issues faced by the people of Yukon. The presentation was followed by a panel discussion with various local stakeholders and a Q&A session with the audience where we discussed the challenges and opportunities associated with data collection in Canada's North, as well as discussed modernization and possible opportunities for partnerships.
When: Tuesday, October 2, 2018
Where: Kwanlin Dün Cultural Center, Whitehorse, Yukon
Cost: Free
Registration is closed.
Presenters

Anil Arora, Chief Statistician of Canada, Statistics Canada
Anil Arora earned a Bachelor's of Science degree at the University of Alberta, then went on to study computer science and received a graduate certificate in public sector management and governance from the University of Ottawa. He joined Statistics Canada in 1988 and moved up the ranks to become Assistant Chief Statistician of the Social, Institutions and Labour Statistics Field in 2008. After a few years spent as Assistant Deputy Minister at Natural Resources Canada and Health Canada, Mr. Arora was appointed Chief Statistician of Canada in September 2016.
Master of ceremonies

Lise Rivais, Director, Western and Northern Region, Statistics Canada
Lise Rivais studied translation at Laurentian and Concordia University. Her career with Statistics Canada began in 1995. Ms. Rivais worked in a variety of capacities for Statistics Canada in Regina, Vancouver and Ottawa. In 2008, she was appointed as Director of the Western Region and Northern Territories. In 2013, Ms. Rivais took on the role of Director for the Collection, Planning & Research Division. Most recently, Ms. Rivais resumed her role as Director of the Western and Northern Region.
Panelists

Keith Halliday, Director, BCG Centre for Canada's Future, The Boston Consulting Group
Keith Halliday is a Whitehorse-based consultant and author. He is the Director of the Boston Consulting Group's Centre for Canada's Future. Previously, he led the firm's global Corporate Banking Knowledge Team. Mr. Halliday has served as a Foreign Service Officer at Canada's Mission to the European Union and as Executive Assistant to the Premier of the Yukon. Mr. Halliday studied at the London School of Economics, University of Victoria and F.H. Collins in Whitehorse. His writing includes the MacBride Museum Yukon Kids Series novels.

Clarke LaPrairie, Assistant Deputy Minister, Economics, Fiscal Policy & Statistics, Yukon Government
Clarke LaPrairie has been with the Yukon Department of Finance for the past 17 years and is currently the Assistant Deputy Minister, Economics, Fiscal Policy and Statistics and prior to his current position, he has been both the Assistant Deputy Minister Financial Operations and Revenue Services and Director, Financial Systems. He held various management positions in telecommunication and mining companies before joining the public sector.Mr. LaPrairie was born in Toronto, Ontario and attended Queen's University in Kingston, Ontario. He has been a residence of the Yukon for over the past 30 years, living in Whitehorse, Watson Lake and Faro. Mr. LaPrairie has served on a number of boards, including The Child Development Centre, The Yukon Quest International 1000 Mile Sled Dog Race and the Yukon Hospital corporation. Mr. LaPrairie is married and has two children.

Sébastien LaRochelle-Côté, Managing Editor, Insights on Canadian Society, Statistics Canada
Sébastien LaRochelle-Côté is the founding editor of Statistics Canada's flagship publication on socio-economic issues, Insights on Canadian Society. During his career, he contributed to numerous Statistics Canada publications, and also published in a number of academic books and journals, including the Canadian Journal of Economics and the Canadian Public Policy. In addition to his work as editor-in-chief, he continues to work as a researcher and is a frequent speaker on issues related to labour, income, and social statistics. A native of Quebec City, Mr. LaRochelle-Côté holds an M.A. in Economics from Laval University and an M.A. in International Affairs from Carleton University.

Shawkat Shareef, Sociology Professor, School of Liberal Arts, Applied Arts Division, Yukon College
Originally from Bangladesh, Shawkat Shareef came to the University of Alberta in Edmonton on Commonwealth Ph.D. Scholarship in 1995. Upon finishing, Dr. Shareef joined the Sociology department as a faculty where he taught for over 13 years until 2013. He joined the Yukon College as the Sociology professor in the summer of 2013 and took part in its review process of becoming a university. Dr. Shareef's teaching and research interests include masculinities, family, and social problems, including poverty and inequality.