June 29, 2022, 11:03 a.m. (EDT)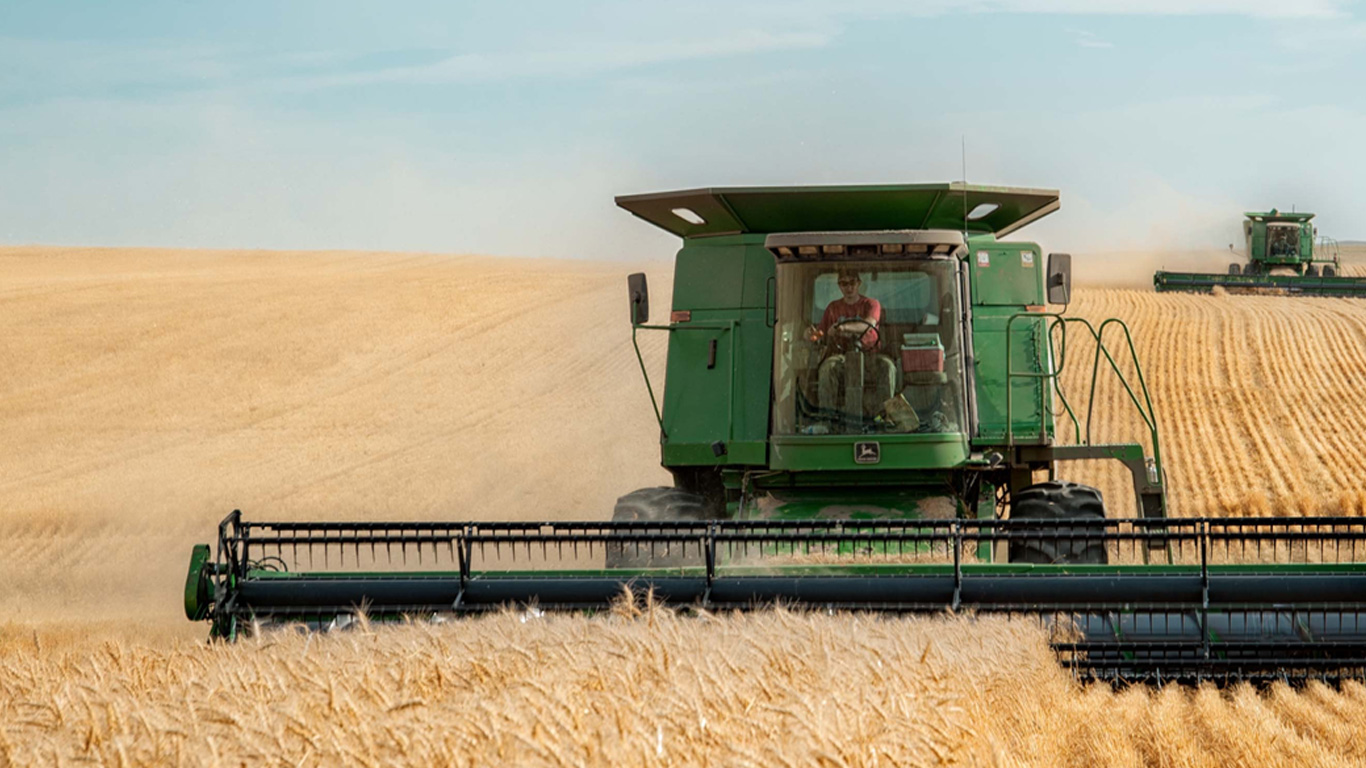 Canadian farmers expect to plant more wheat this spring compared with last spring. That's welcome news during a time of global supply uncertainty surrounding this essential grain. Here's what the data tell us about Canadian wheat today.
Conflict in Eastern Europe disrupts global wheat market
Russia, the United States and Australia were the largest exporters of wheat in 2021. Canada ranked fourth, in the wake of the worst drought on the Prairies since 2002. Ukraine ranked fifth.
The Russian invasion of Ukraine in February 2022 has rocked the global wheat market, and the tenth largest exporter in 2021, India, recently announced an export ban on all domestically grown wheat.
Wheat prices rising
Prices generally rise when demand outstrips supply, and that's exactly what's happening in Canada and around the world today. 
Stocks of total Canadian wheat were down 38.7% year over year to 10.1 million tonnes as of March 31.
Food manufacturers are now paying over double for wheat than they were at the beginning of the COVID-19 pandemic. Prices were up 73.8% year over year in April 2022.
Canadian shoppers are also now paying more for wheat-based products. In April, Canadians paid more for bread (+12.2%), pasta (+19.6%) and cereal products (+13.9%) compared with the same month a year earlier.
Tough year for Prairie wheat farmers in 2021, hopes for a better crop ahead
Prairie wheat farmers endured their worst drought in almost two decades in 2021. Record-high temperatures in western Canada, combined with little rain, pulled yield down 38.1% from a year earlier to 31.6 bushels per acre, the lowest wheat yield in two decades.
As a result, Canadian wheat production fell 38.5% from a year earlier to 21.7 million tonnes in 2021, while exports were down 44.0% to 10.0 million tonnes.
Farmers in Saskatchewan were hardest hit among the three Prairie provinces, which combined generally account for over 90% of total Canadian wheat production annually.
Higher wheat prices offset lower sales
Despite the challenging growing conditions, the cash farmers received for their wheat increased 17.2% to $9.2 billion in 2021.
Wheat prices (excluding durum) rose 29.0% while sales fell 10.1%. Durum wheat prices were up 45.0%, and sales were down 15.9%. Year-end farm stocks declined to their lowest level since 2002, another year of severe drought.
Who buys the most Canadian wheat?
In 2021, Canada exported $8.3 billion worth of wheat, making it the fourth largest exporter of wheat in the world. The main destinations for Canadian wheat include China ($831 million), Japan ($666 million), Indonesia ($634 million), Peru ($558 million), Colombia ($512 million), and the United States ($498 million).
Wheat springs eternal
While farmers are famous for looking at the sky, they also watch the news and monitor crop prices.
It's not surprising then that Canadian farmers are expecting to plant 7.2% more wheat this spring compared with last year in the wake of rising prices and increased demand.
Nationally, farmers anticipate planting 25.0 million acres of wheat in 2022, comparable to the size of South Korea.
Farmers in Saskatchewan, Alberta and Manitoba all expected to plant more wheat this spring, no doubt hoping for less heat and more rain than last year.
Unfortunately, wheat farmers in Manitoba and parts of Saskatchewan contended with more rain than usual this spring, not to mention a large dump of snow, that has delayed seeding. 
In Manitoba, early reports suggest that two-thirds of farmers have completed seeding. In the most affected regions of Saskatchewan, just over three-quarters of farmers have completed their seeding.
By way of comparison, 96% of seeding was completed by mid-June last year, and the five-year average is 98%.