Tracking Sustainable Development Goals
Gender equality, clean water, climate action and no poverty…these are just some of the Sustainable Development Goals developed for the 2030 Agenda for Sustainable Development, a plan of action to end poverty, protect the planet and ensure peace and prosperity on a global scale.
In May, Statistics Canada launched the Sustainable Development Goals Data Hub (SDG Data Hub), a one-stop online resource for information and statistics that allow Canadians to monitor progress on the 2030 goals and targets.
Recently, Canadians got their first report card on that progress with the release of a voluntary national review (VNR) report. The Honourable Jean-Yves Duclos, Minister of Families, Children and Social Development, presented the first VNR on Canada's progress at the 2018 United Nations High-level Political Forum on July 17, 2018. The VNR highlighted Canada's programs and policies that support SDG progress.
Statistics Canada plays a key role by providing data to tell these stories. As Canada's trusted source of statistics, StatCan provides the benchmarks to track Canada's progress in a way that is transparent and accessible for Canadians.
Before we explore the SDG Data Hub, let's find out a little more about the 2030 Agenda initiative.
2030 Agenda
On September 25, 2015, the United Nations General Assembly adopted the 2030 Agenda for Sustainable Development and 17 Sustainable Development Goals. Each goal is a call to action for UN member countries to work together to solve pressing global issues. This also led to the creation of a list of 244 indicators to support the 2030 Agenda.
The 17 SDGs are a universal, indivisible set of global goals to help the most vulnerable, while leaving no one behind. The goals are: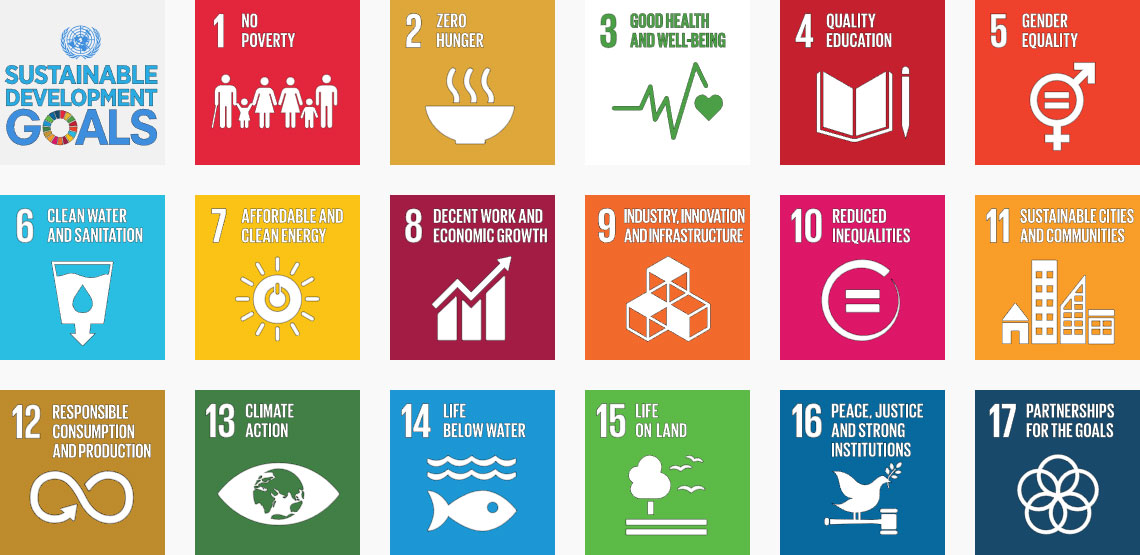 Description: Sustainable Development Goals

No poverty
Zero hunger
Good health and well-being
Quality education
Gender equality
Clean water and sanitation
Affordable and clean energy
Decent work and economic growth
Industry, innovation and infrastructure
Reduced inequalities
Sustainable cities and communities
Responsible consumption and production
Climate action
Life below water
Life on land
Peace, justice and strong institutions
Partnerships for the goals.
Many of the Government's current priorities, such as growing and strengthening Canada's middle class, reducing poverty, reconciliation with Indigenous peoples, advancing gender equality and the empowerment of women and girls, and ensuring access to justice for all Canadians, support Canada's progress towards the 2030 Agenda and its overarching goals. The SDGs offer an opportunity for Canada to focus on these priorities by committing to concrete actions.
International leadership
The United Nations Assembly has given national statistical offices a mandate to report on the indicators.
As Canada is one of 27 member countries of the United Nations Inter-Agency and Expert Group for Sustainable Development Goal Indicators (IAEG-SDG), Statistics Canada has been playing a very active role in developing the indicators, explains Cara Williams, Chief, International Cooperation and Corporate Statistical Methods Division. In March 2017, Canada hosted the 5th IAEG-SDG meeting. Check out the video of the proceedings.
"We have also played a leadership role by contributing to the development of a Global Indicator Framework, and by sharing our expertise in areas such as data management and methodology," says Ms. Williams.
The SDG Data Hub
To collect these data, Statistics Canada collaborated with federal departments and agencies, international organizations and non-governmental organizations to gather relevant statistics. Key federal partners include Global Affairs Canada, Crown-Indigenous Relations and Northern Affairs Canada, Indigenous Services Canada, Employment and Social Development Canada, Status of Women Canada and Environment and Climate Change Canada.
The SDG Data Hub will be updated continuously as new data become available, new partnerships are established and domestic indicators are identified. Any organization with data that could be added to the hub is invited to email us.
The statistics found in the SDG Data Hub are compiled from a variety of publicly available sources. As not all of these data are collected by Statistics Canada, some are not subject to the same rigorous quality control checks as Statistics Canada's data. However, Statistics Canada experts have reviewed the SDG data to ensure that they are a reliable source of information.
Looking ahead
Statistics Canada will continue to expand the SDG Data Hub. Future developments include adding data visualization products, partnering with provinces and territories to provide data at local levels and developing Canada-specific indicators. "Our team is establishing new partnerships, including with provinces and territories to obtain statistics at the local level. Our goal is to provide Canadians with high-quality data to support the SDGs," notes Ms. Williams.
As Canada strives to meet the SDGs of the 2030 Agenda, the SDG Data Hub will light the way, giving Canadians they information they need to ensure a brighter future for all.
Please note that comments are moderated. It may take some time for your comments to appear online. For more information, consult our rules of engagement.
597 people recommended this

1388 people recommended this

1725 people recommended this