The next generation of storytellers and statisticians: The winners of our Canada 150 contest
In 2017, Statistics Canada joined the chorus of federal government institutions and the millions of Canadians from across the country who came together for Canada's 150th anniversary of Confederation. To celebrate, the agency organized an ambitious year-long program of activities and events. Our theme—Telling Canada's story in numbers—celebrates the role that Statistics Canada has played in chronicling the lives of Canadians throughout the country's history.
In partnership with the Statistical Society of Canada, Statistics Canada set out to close this epic year on a high note by engaging the next generation of storytellers and statisticians in the Contest - My story in numbers. From November to December 2017, nearly 150 youth between 8 and 18 participated in this nation-wide contest that challenged them to submit a story—in the artistic format of their choice—using at least one statistic from a variety of inspirational resources.
In mid-December, a panel of representatives from Statistics Canada and the Statistical Society of Canada came together to choose the three winning submissions based on two criteria: The creativity and presentation of ideas, and the overall usage of statistics to tell a story in numbers. And, just before the holiday break, the three winners received the exciting news that they placed first, second and third, earning cash prizes courtesy of the Statistical Society of Canada and a prize package of Canada 150 items from Canadian Heritage.
So, without further ado, here are the three winners of the Contest – My story in numbers!
1st place winner
Alexander Morgado-Drysdale
from Mississauga, Ontario, 10 years old, with his video: Alex's story in numbers.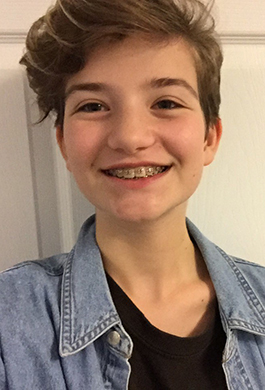 2nd place winner
Jordan Kozma
from Markham, Ontario, 13 years old, with her drawing: Aboriginal man.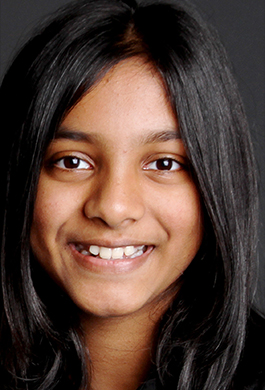 3rd place winner
Alysha Selvarajah
from Vaughan, Ontario, 12 years old, with her video: Story of millions: The everyday life of Toronto.
Earlier this month, Statistics Canada sat down with our three winners and their parents to discuss the inspirations behind their work, and about what Canada 150 means to them.
Statistics Canada:
Congratulations on your big win! What inspired you to create your story?
Alexander-Morgado Drysdale and Vickie Mordago:
"Well, my mom and I brainstormed some ideas and I decided that I wanted to create a video because I've done it before and I'm pretty good at it. My mom and my little sister helped me—it's even her voice at the beginning! We even tried to get the dog to bark. In the end, we had a lot of fun putting it together as a family."
Jordan Kozma:
"My favourite subject in school is art because I really love it and I think it's nice to have a good creative outlet. I find a lot of inspiration in Aboriginal art and I think it's really important, so I thought it would be cool to sketch someone. I wanted my drawing to be a straight on portrait because I find it more engaging, and it creates a lot of depth."
Alysha Selvarajah:
"I was inspired by the City of Toronto and the neighbourhood where my grandma lives in downtown Toronto. When I visit her, I always notice the diversity of the city. I like how it has a mixture of styles and that truly shows how inviting the city is to its people."
Statistics Canada:
What is your favourite subject in school? If you could see yourself in any profession in the future, what would it be?
Alexander Morgado-Drysdale:
"I like art and physical education. I think phys-ed is my favourite because it allows you to get fit and it's still a subject. I also like to play chess. In the future, I would like to be an engineer or an architect because I'd like to create or design something."
Jordan Kozma:
"My favourite subject is art. I like looking at and studying famous paintings, and I do sketching and water colours a lot—those are my favourite. I also go to a theatre program on the weekends where I do musical theatre, and I am applying to an art high school this year. I think a career in visual arts would be a great thing for me and a big goal."
Alysha Selvarajah:
"My favourite subject is English and this is because reading is one of my favourite hobbies. It allows you to envision travelling to amazing places, and I also like to write short stories and poems. In the future, I see myself as an aerospace technologist at NASA."
Statistics Canada:
Did you participate in any other Canada 150 activities this year? Why was it such an important year for Canada?
Alexander Morgado-Drysdale and Vickie Morgado:
Alex: "We had a Parks Canada Pass and we did some fireworks, too." Vickie: I've also explained to Alex and the kids that while Canada is 150 years old, there were many people living here before that. There's a whole aspect of our history that we have to think about as we celebrate."
Jordan Kozma:
"During the summer, I go to a camp in Haliburton, Ontario, that's out in the woods. We did a big celebration with a bon fire and it was really fun to celebrate with all of my friends at camp. I think Canada 150 is important because it's such a big deal for Canada to have this mark in history. Canada Day is just about spending time with family and friends."
Alysha Selvarajah:
"In July, my family and I went on a road trip to Ottawa. We visited MosaïCanada in Gatineau, Quebec, to see the beautiful sculptures made from nature. We also saw the Ottawa sign in the ByWard Market. I think Canada 150 is important because it brings together all Canadians and ethnic groups to celebrate what Canada is."
Statistics Canada:
How do statistics help Canadians better understand their country?
Alexander Morgado-Drysdale and Vickie Morgado:
Alex: "Statistics help us to understand our history." Vickie: "For me, I hadn't been on the Statistics Canada website since I was a graduate student, so the contest forced me to go back on and to teach him how to use it. I asked him what kind of information he wanted to look for and he wanted to know how many grade 5 students there are in Ontario. When you look it up and start to visualize how many kids there are, it's pretty cool! He's not old enough yet but in a few years he can go back and compare those numbers to see how the country is changing."
Jordan Kozma:
"I think it's good to understand the country because you really get an exact point of view of what's happening around you. I thought the entire Statistics Canada website was very interesting and it opened me up to a lot of things I didn't know before."
Alysha and Michelle Selvarajah:
Alysha: "I think statistics help us celebrate momentous occasions like Canada 150. We can learn a lot about our history from statistics and we can compare different results and different patterns of numbers." Michelle: "This exercise in statistical research gave Alysha the opportunity to see how statistics can be applied in everyday life, and it was interesting to see how she incorporated all of the information she learned into one video. The contest was great that way."
Congratulations to the winners and thank you to all of the young Canadians who participated in this contest!
Please note that comments are moderated. It may take some time for your comments to appear online. For more information, consult our rules of engagement.
240 people recommended this

263 people recommended this

265 people recommended this