The Indigenous Peoples Survey is a national survey of First Nations peoples living off reserve, Métis and Inuit. The survey provides important information concerning Indigenous Peoples such as language, harvesting, handcrafting and cultural activities, housing and mobility. The data can be used to inform policy and programming activities aimed at improving the well-being of Indigenous peoples.
The Indigenous Peoples Survey Supporter Toolkit contains tools and resources, such as social media content, web banners, hashtags and promotional materials in one convenient location to help you and your organization share information about the Indigenous Peoples Survey.
Keep coming back! The toolkit will be updated regularly.
What's in the toolkit?
Materials available include:
Follow us on social media
Hashtags
#IPS2022
Social media content
Statistics Canada encourages community supporters to post our content and images to their own social media accounts. You can save the images to your device and copy and paste the text content to your social media platforms to share.
Post 1
Statistics Canada's 2022 Indigenous Peoples Survey (IPS) is now underway. It aims to provide current and relevant data to help plan programs and policies in education, employment and health.
Post 2
The data collected through the Indigenous Peoples Survey (IPS) will be vital to help inform decisions on programs and services that will support Indigenous communities. If you have been selected, help plan for the future and participate!
Post 3
Have you been selected for the 2022 Indigenous Peoples Survey (IPS)? The data collected will help Indigenous organizations, local communities and governments improve the well-being of Indigenous people across Canada.
Web banners
IPS web banner 1 (300x250) (JPG, 98.42 KB)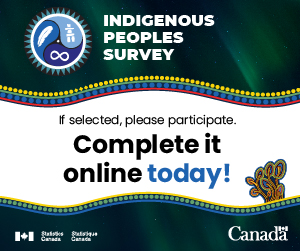 IPS web banner 1 (300x600) (JPG, 154.5 KB)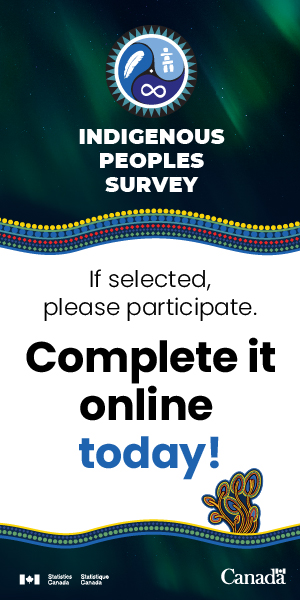 IPS web banner 1 (728x90) (JPG, 84.59 KB)


IPS web banner 2 (300x250) (JPG, 102.59 KB)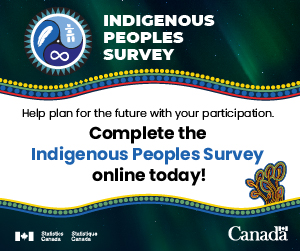 IPS web banner 2 (300x600) (JPG, 164.8 KB)