June 29, 2022, 3:22 p.m. (EDT)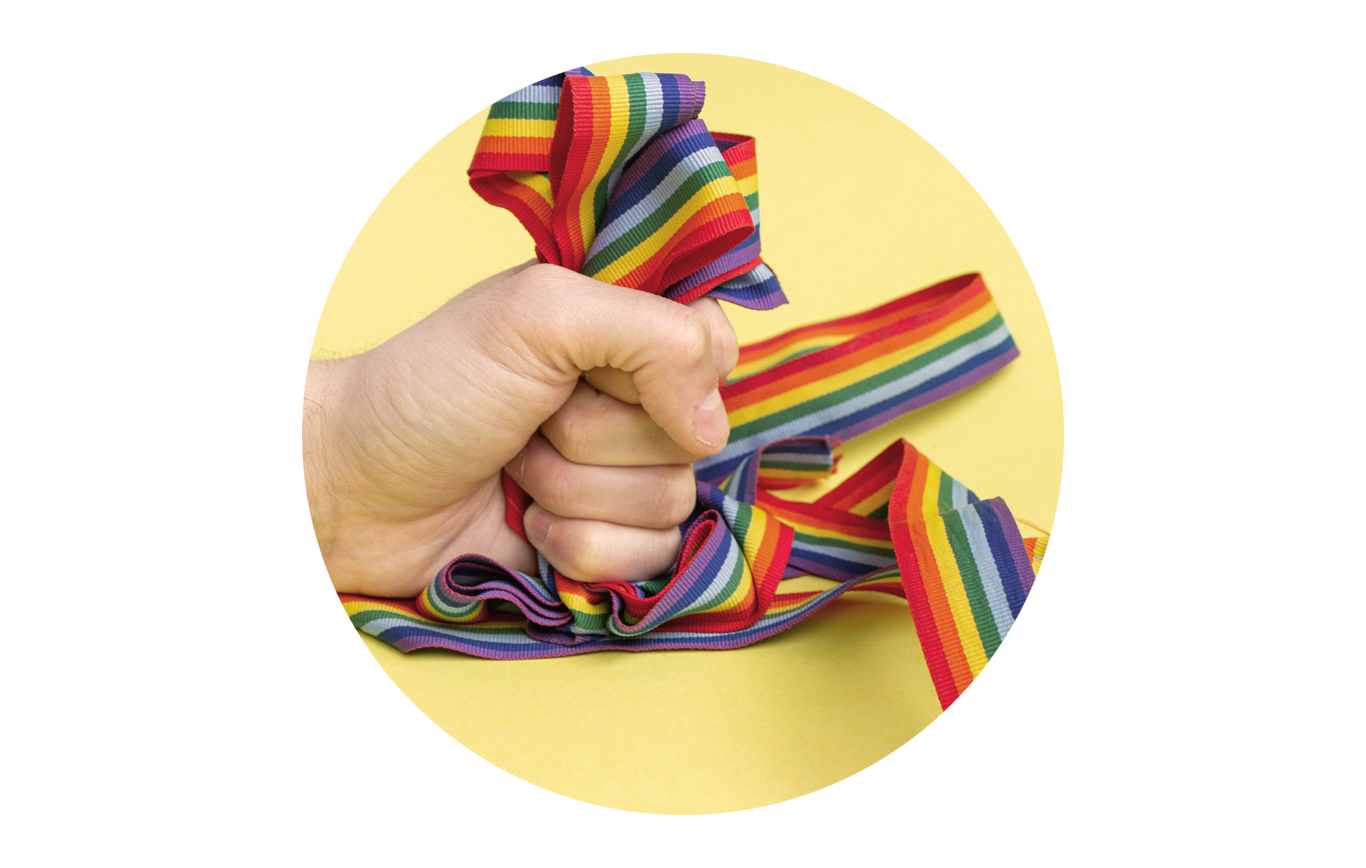 To stand against homophobia, transphobia, and biphobia is to celebrate the diverse identities of Lesbian, Gay, Bisexual, Transgender, Queer, And Two-Spirit (LGBTQ2+) people and to recognize the ongoing importance of fostering safe and inclusive communities for every person in Canada without discrimination or violence based on sexual orientation, gender identity or expression.
As we are in Pride Season (June to September), many of us are gathering to celebrate and honour LGBTQ2+ people, at home and abroad, to reaffirm the fundamental right to be treated equally, with dignity and respect. The welcoming of Pride Season is also an opportunity to acknowledge that in Canada and around the world, LGBTQ2+ individuals are still more likely to be victims of gender-based violence than their heterosexual and cisgender counterparts.





Canada is home to approximately 1 million people who are LGBTQ2+, accounting for 4% of the total population aged 15 and older. Whenever possible, Statistics Canada disaggregates data by sexual orientation and by gender identity, recognizing that people who are lesbian, gay, bisexual or of a sexual orientation other than heterosexual (LGB+) are likely to have different experiences in all spheres of Canadian society than people who are transgender or non-binary.
In 2018, the Survey of Safety in Public and Private Spaces (SSPPS)—a large-scale, nationally representative household survey—was conducted by Statistics Canada with the goal of advancing knowledge of gender-based violence in Canada. Results show that people who are lesbian, gay, bisexual or of a sexual orientation other than heterosexual (LGB+) in Canada are more likely than heterosexual people to be physically and sexually assaulted or to sustain injuries as a result of aggression.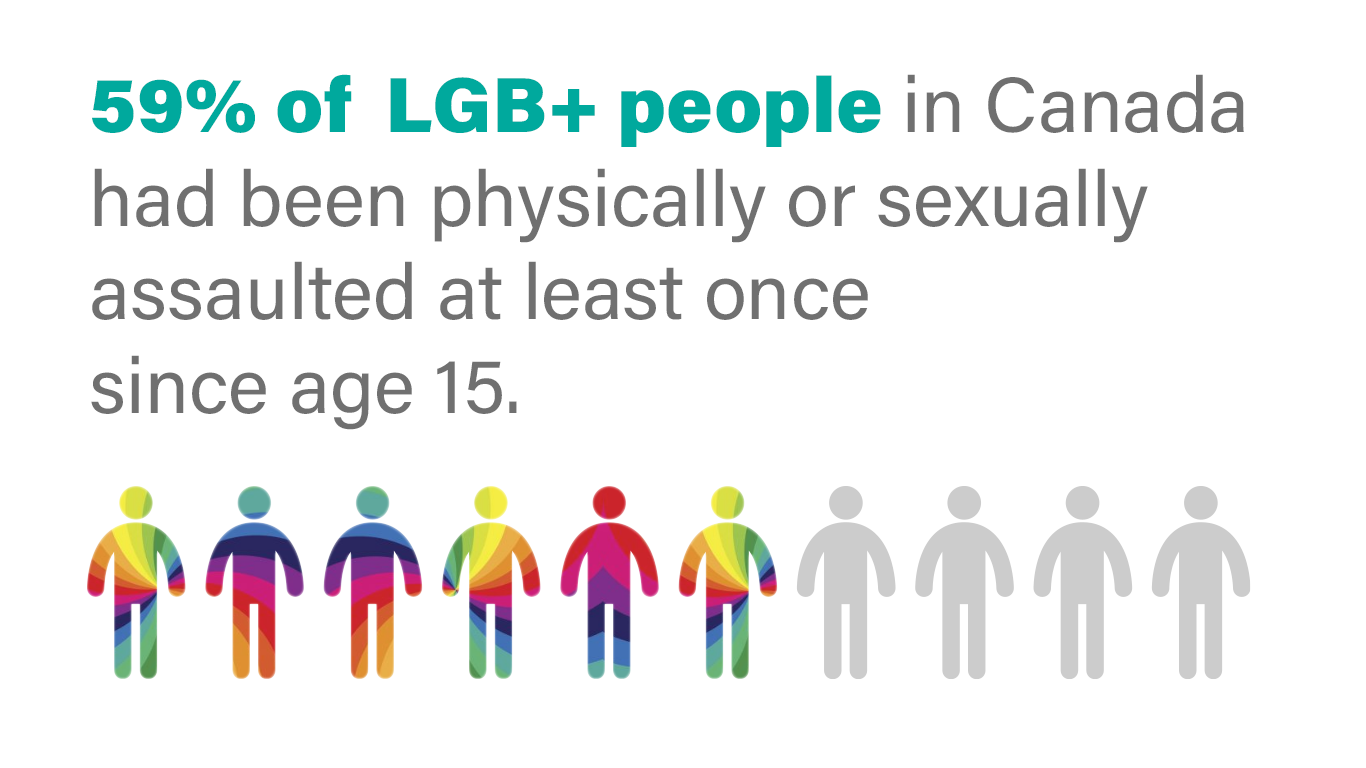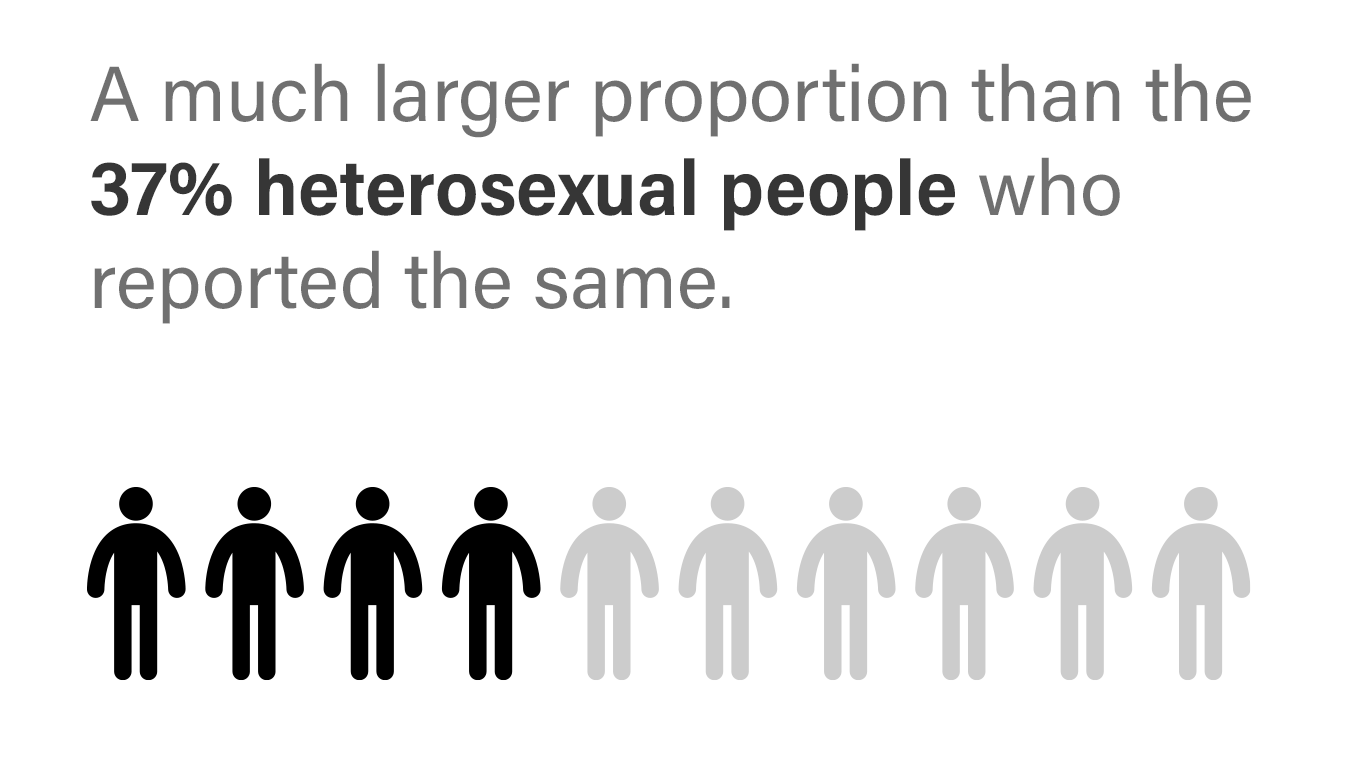 An estimated 70,000 LGB+ people in Canada—or 6% of all LGB+ people in Canada aged 15 and older—said that they had been physically assaulted at least once in the 12 months prior to the SSPPS.  Of these reports, 19% of physical assaults came to the attention of the police. Meanwhile, almost one-third (30%) of heterosexual individuals who were physically assaulted said that the incident was brought to the attention of the police.
Data from the SSPPS show that a large proportion of LGB+ people in Canada experience gender-based violence in their day-to-day lives, through unwanted sexual behaviours in public spaces and at work, online harassment, as well as more overtly violent behaviours such as physical and sexual assault. These behaviours can have profound effects on mental health and well-being. When asked to self-rate their mental health, approximately one-third (32%) of all LGB+ people in Canada aged 15 and older stated that their mental health was poor or fair. More specifically, over 4 in 10 (41%) bisexual people and one in five (20%) gay or lesbian people in Canada reported poor or fair mental health. Comparatively, poor or fair mental health was reported by over 1 in 10 (11%) heterosexual people.