December 8, 2021, 2:20 p.m. (EST)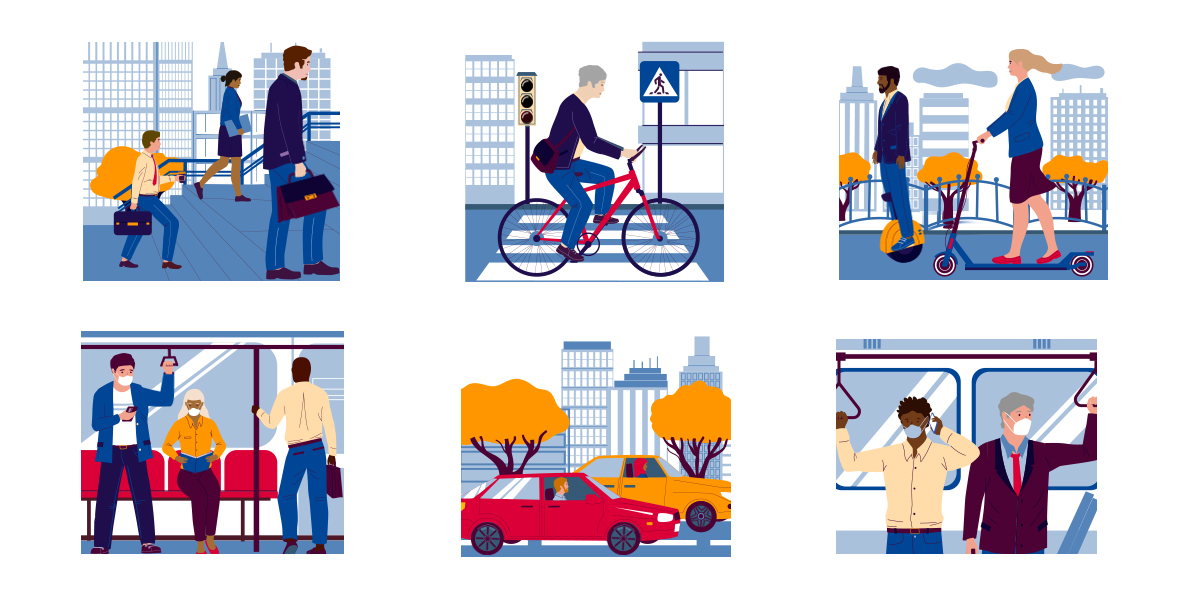 As we continue to navigate the COVID-19 pandemic, many Canadians are working from home. Just five years ago, about 4% of employed Canadians teleworked. In 2021, six times as many Canadians are working from home compared with 2016. Recent data  from the Labour Force Survey shows that the proportion of people working from home as of October 2021 was 23.8% (4.2 million Canadians). Even though many public health restrictions have eased as vaccination rates increase, this proportion has only slightly changed since October 2020, when 4.3 million worked from home.
This reality, in addition to the general fear of contracting COVID-19, means less frequent use of public transit. In April 2020, ridership was at an all-time low as we counted 25.7 million riders. During that same month, over 41% of Canadian employees worked from home.
Interestingly, in June 2020, of the Canadians who did not work from home, more walked or biked to work than took public transit.
Before the pandemic, 13% of working Canadians commuted by public transit, and 7% walked or cycled. In June 2020, 3% took public transit, and 6% walked or cycled. Of the commuters who used public transit before the pandemic, nearly half (42%) did not have to travel to work anymore because they worked from home. Just over one-third (34%) switched to another mode of transportation, and 24% continued to use public transit.
Things may be looking up, however: compared with a year earlier, ridership was up by 24.3% (or 15.3 million rides) in September 2021. While the number of passengers was 85.8 million lower than in September 2019, before the pandemic, this increase could signal a new period of ridership recovery.
With ridership still well below pre-pandemic levels, the financial situation remains fragile for transit agencies. Total operating revenues (excluding subsidies) reached $184.2 million in September, an increase of 28.6% from the previous year. This is the highest level observed since March 2020. Despite this growth, transit agencies' operating revenues remained at roughly half (49.9%) of the pre-pandemic level from September 2019.
On a positive note, more people working from home could lead to a reduction in greenhouse gas (GHG) emissions. A recent study suggests that a complete transition to telework could lead to a pretty significant reduction in annual GHG emissions: 8.6 megatonnes of carbon dioxide, to be exact. This number represents 6.0% of emissions from Canadian households and 11.0% of their emissions from transportation in 2015.
We do not know if and when employed Canadians will return to the office full-time, or whether use of urban transit will go back to the way it was before the pandemic. We do know, however, that in 2015–long before the pandemic–36.3% of Canadians were holding jobs that could be done from home, but they usually worked outside the home. Ottawa–Gatineau saw the most telework-compatible jobs (48.2%), followed by Toronto (44.0%), Montréal (41.5%), Vancouver (38.9%), and St. John's (37.7%).
We also know that our urban transit systems are working to shift to more sustainable forms of energy. Specifically, 2019 saw a 4.9% decrease in diesel fuel consumption and a 19.5% increase in electric power sources since 2015.
For further reading
Working from home during the COVID-19 pandemic, April 2020 to June 2021 (statcan.gc.ca)
The Daily –Labour Force Survey, October 2021 (statcan.gc.ca)
Public transit in a post-COVID-19 Canada (statcan.gc.ca)
The Daily –More commuters now walk or bike to work than take public transit (statcan.gc.ca)
The Daily –Urban public transit, September 2021 (statcan.gc.ca)
Working from home: Potential implications for public transit and greenhouse gas emissions (statcan.gc.ca)
A look at the potential impact of telework on public transit and greenhouse gas emissions using 2015 data (infographic) (statcan.gc.ca)
Passenger bus and urban transit in Canada, 2019 (infographic) (statcan.gc.ca)