June 15, 2023, 9:34 a.m. (EDT)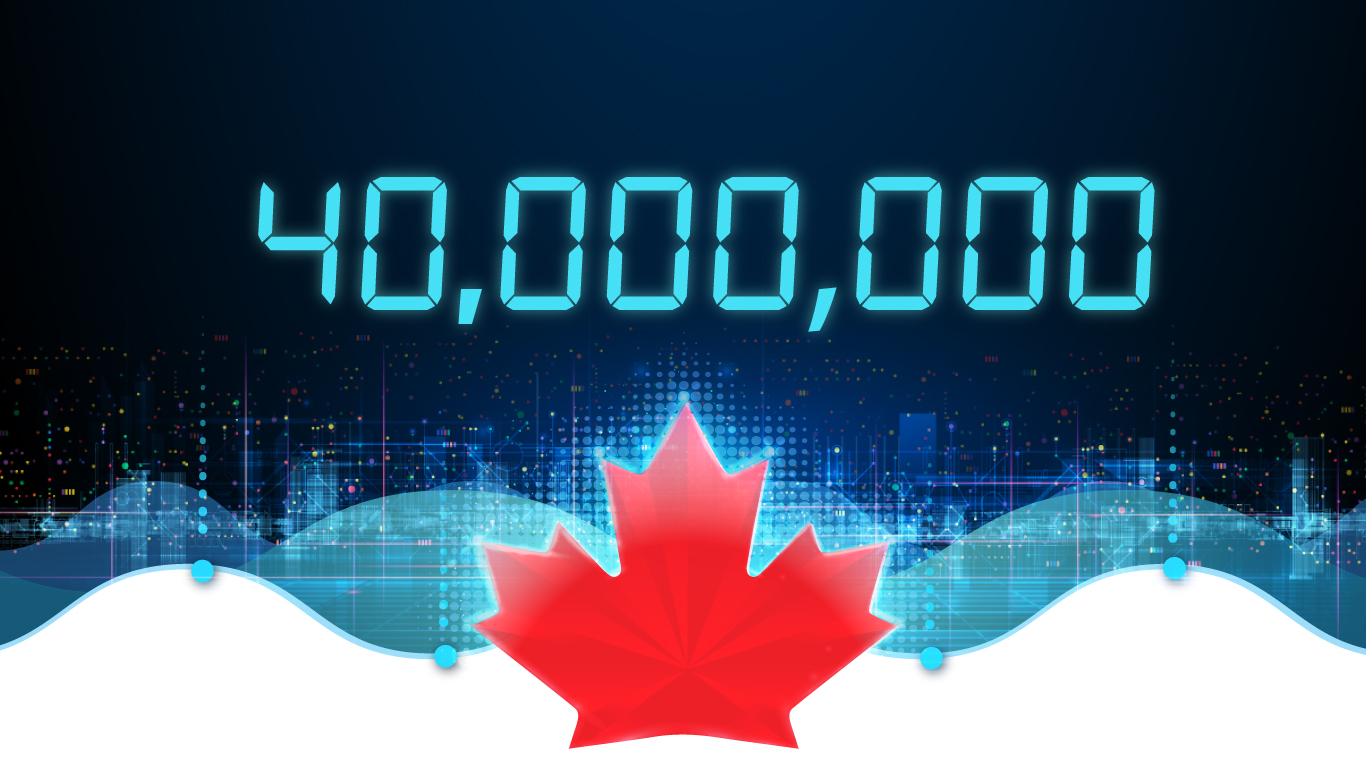 On June 16, 2023, Canada's population reaches 40 million.
This is a historic milestone for the country, and it occurs after a record-setting year of growth. In 2022, Canada's population grew by an unprecedented 1.1 million people, most of them permanent and temporary immigrants. Thanks to this influx, the 40-million mark was reached even faster than expected.
It's a wonderful opportunity to celebrate how much Canada has grown, and to look back at our collective journey to get here.
The early years: different cultures meet
When the first Europeans started to settle in North America in the 16th century, the territory that is now Canada was already called home by an estimated 200,000 to 2 million First Nations and Inuit peoples.
In 1666, more than half a century after the settlement of Quebec in 1608, Jean Talon conducted the first ever census. Just like today, enumerating the population living in New France was quite a journey for Talon, who succeeded despite conducting his census during wintertime. Using the concept of usual place of residence—still the foundation of today's census conducted by Statistics Canada—Talon counted a population of 3,200 people, which was mostly growing due to high fertility rates.
In the late 18th century, loyalists fleeing the American Revolutionary War formed the first large migration wave to Canada. Over the early 19th century, the population continued to grow through immigration, mainly from the British Isles.
Starting in the second half of the 19th century, immigration became more diverse as Chinese immigrants started to settle in Canada and later contributed to building the Canadian Pacific Railway. Over the course of those years, birth rates also remained high compared to today.
As a result, by 1867, the year of the Confederation of Canada, an estimated 3,463,000 people were living in the country, mostly in what are now Ontario, Quebec and the Maritime provinces.
Settlement of the West
Starting in the late 19th century and until the First World War, new waves of immigration began to arrive in Canada, further accelerating population growth. This was the period when new opportunities were flourishing in the western part of the country, made possible by the completion of the Canadian Railway that linked the country from coast to coast.
The immigrants coming to Canada over that period were mainly from European countries such as Germany, Poland, Ukraine, Netherlands, as well as Scandinavian countries.
In 1870, Manitoba joined the Canadian Confederation, soon followed by British Columbia in 1871. A few decades later, in 1905, it was Saskatchewan and Alberta's turn to join Canada. By then, there were already over five million Canadians.
Troubled times: the 1910s, 1920s, and 1930s
In 1913, Canada welcomed a record-setting 400,000 immigrants, a number that wasn't reached again until 2021. Just before the First World War, Canada's population was growing fast at a pace that exceeded 3% per year. This fell abruptly after the start of the war in 1914.
In 1916 and 1917, Canada experienced its first period of two consecutive years when population growth was below 1%.
Despite a dip in immigration and population growth during and between the two world wars and the Great Depression of the early 1930s, Canada's population reached 10 million in 1929. This was mostly a consequence of high fertility and was accompanied by strong urbanization.
Post-war Baby Boom
Following the Second World War, Canada and many other countries witnessed a sudden rise in the number of births. Canada experienced one of the strongest post-war baby booms in the world, with fertility peaking at 3.94 children per woman in 1959. That's almost three times higher than the record low of 1.41 recorded in 2020.
In 1960, more than 463,000 babies were born in Canada, a record that still stands today. In comparison, 368,000 babies were born in 2021, even though the total population was over two times larger than that in 1960.
By 1966, at the end of the baby boom period, Canada's population had peaked at 20 million people, with a large share of children aged between 0 and 14 years.
In the 1960s and 1970s, fertility gradually decreased as access to contraception and women's participation in the labour force were increasing. In 1972, the number of children per woman fell below replacement level (2.1 children per woman) for the first time.
In parallel, urbanization and urban spread also accelerated with the rapid growth of various suburbs. By the early 1970s, three out of four Canadians were living in an urban region.
An increasingly diverse Canada
With Canadian couples having fewer children, immigration became the key driver of population growth by the mid-1990s. As immigration levels started to increase at the end of the 1980s, Canada's population reached 30 million in 1997. This trend has continued and in 2022, international migration accounted for almost all (96%) of the country's growth.
During this recent period, we also grew older. Population aging accelerated in 2011, with the first cohorts of baby boomers reaching age 65 and going into retirement. Labour shortages in some sectors of the economy started to appear.
With sustained immigration levels since the end of the 1980s, the ethnocultural diversity of the Canadian population has also been increasing. In 2021, the census counted more than 450 ethnic and cultural origins, 200 places of birth, 100 religions, and 450 languages. Over 1.8 million Indigenous people were also counted in the census, representing 5% of the population, and speaking more than 70 Indigenous languages.
In 2021, Canada also became the first country to collect and publish data on gender diversity from a national census.
Looking ahead
As we reach 40 million Canadians, the future of our population depends on the decisions we make today. If current immigration levels stay in place, Canada's population could hit the 50-million mark by 2043—that's just 20 years from now. For comparison, it took 26 years to go from 30 to 40 million.
What's more, by 2041, two in five Canadians could be born abroad, which would be a record high.
Whatever path we take, Statistics Canada will be there to continue monitoring demographic trends. And you can too, thanks to Statistics Canada's population clock (real-time model), as well as the population estimates and projections that are accessible through Statistics Canada's Population and demography web portal.