Welcome to the Gender, Diversity and Inclusion Statistics (GDIS) Hub, Statistics Canada's primary platform for all gender, diversity and inclusion related data. The Hub enables data users to more easily find disaggregated and intersectional data, analytical products and insights.
Have you been selected to participate in the Survey Series on People and their Communities? Results will provide important information about the social and cultural environment of individuals and families in Canada. For more info: www.statcan.gc.ca/SSPC-SWCPESV

If you've been selected to participate and you would like to receive a copy of the questionnaire in Spanish, Arabic or Vietnamese, as reference for completing the survey online in English or French, please send an email to statcan.sspc-contact-segc-contact.statcan@statcan.gc.ca.
Gender-Based Analysis Plus (GBA Plus) Awareness Week
Launched in 2012, the Government of Canada's GBA Plus Awareness Week occurs annually in the second week of May and is designed to increase understanding among federal public servants of the relevance of GBA Plus to their work and in their respective contexts.
The theme for this year, "Building a More Inclusive Future for All," reinforces GBA Plus's intersectional design as a means to advance equality and inclusion for everyone in Canada.
For more information about GBA Plus Awareness Week 2023, visit: GBA Plus Awareness Week
To participate in GBA Plus Awareness Week Events, visit:
Recent releases
Data visualization tool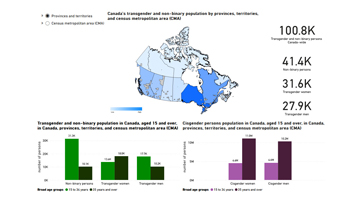 Explore data with our Canada's Transgender and Non-Binary Population: Data Visualization Tool by age for province, territories and Census Metropolitan Areas (CMAs) based on data from the 2021 Census of Population.
Key indicators
Total - gender: 47,799

Male gender: 27,549

Female gender: 20,142

Total - gender: 39

Men: 20

Women: 19

Total - all persons: 40.22%

Indigenous people: 57.67%

LGBTQ2+ people: 61.10%

Persons with disabilities: 50.41%
Visit our related pages
Consult subject-specific pages for all the related data, analysis, and reference resources. These pages contain information on topics important to the GDIS.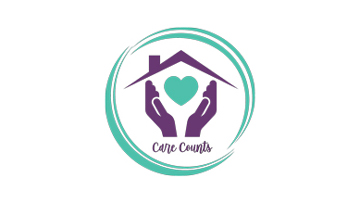 Care economy project
Welcome to Statistics Canada's care economy project, which brings together statistical information on paid and unpaid care work for care-dependent groups.
Infographics
These infographics provide a quick overview of gender, diversity and inclusion in Canada.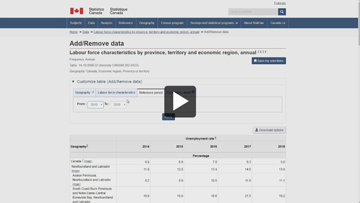 How to use Statistics Canada tables
Discover the new display and functionality of Statistics Canada data tables with How to use the data tables.